Main content starts here, tab to start navigating
Industry Insights
In the wake of COVID-19, from March 23rd through April 30th, we launched a survey with a goal to present a snapshot of how individuals in the hospitality industry were feeling in the midst of the shutdown. As an organization, our approach is rooted in listening, and our hope is to identify a diversity of ways to support employees laid off or furloughed as a result of the Coronavirus.
We believe in the talent, resilience and future of the hospitality industry. Since 2018, we have been traveling the country and listening to staff and owners who have generously shared their vision for an industry that is more equitable, accountable, and transparent. As our industry works to reopen and recover, we must use this opportunity to rebuild with this vision in mind.
What follows is a digest of our findings.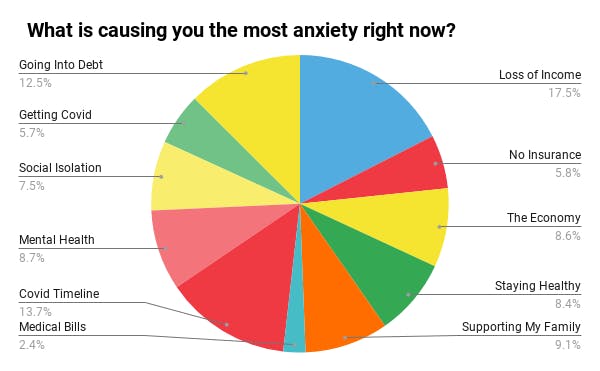 "We are helping each other out locally. We are sharing resources, info and relief funds we can find and apply for. We are worried about rent, bills, feeding the kids, etc."


"I'm seeing anger and depression coming from restaurant workers and anxiety and overwhelm from owners. Across the board, everyone seems unsure of what to do."
What respondents are saying:
Scared to be laid off scared to go back... Uncertain about future in the industry.
It's hard!
That they've been laid off. A lot of support. A lot of love.
Despair and desperation. Anger and disbelief.
People are scared and unsure how they will afford life.
Some companies have helped, others did nothing. (My company did nothing for us.)
Most people in the restaurant and bar industry live paycheck to paycheck.
panic. fear. stress. uncertainty.
Where survey responses originated: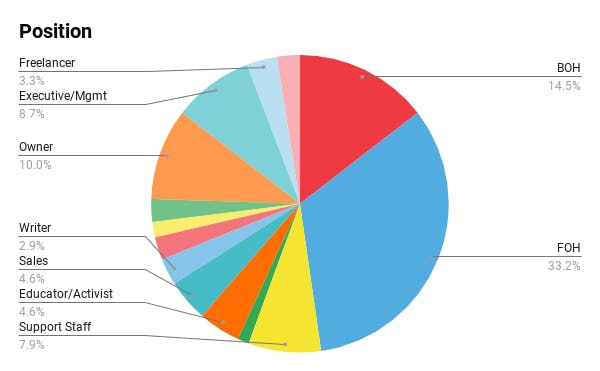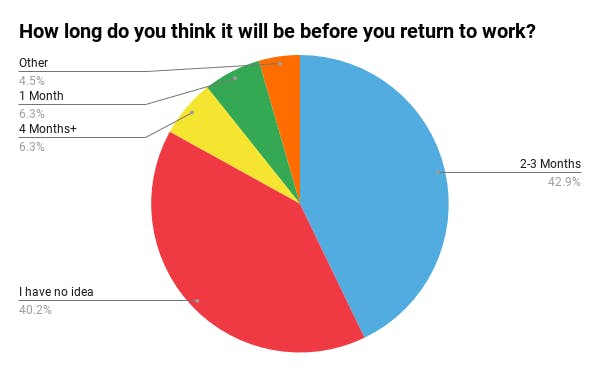 How respondents have been spending time since being laid off:
Research on internet for financial assistance
Trying to exercise and stay sane.
I'm doing a lot of research around social leadership and hospitality justice so that I have more agency in the future.
Menu development, reading cookbooks, building my website, creating my brand bio/media kit, cooking daily, connection with other.
At home really struggling to transition to not working 80+ hours a week. This is the first time I have had time off since early December due to understaffing.

Honestly, I feel helpless and pissed off that I want to help people but don't know how.
Depressed
Praying. Searching for opportunities that will help me now and in the near future.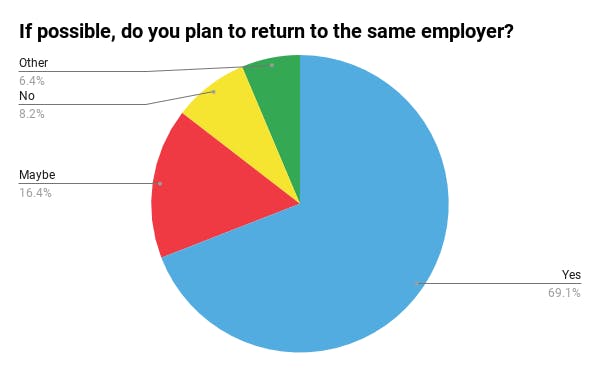 Why?
I love cooking for people and it is the only professional skill I have developed. I have no idea how to start over in a new industry.
I want to make sure I do my part to get them back on their feet. And I'm unsure about my own career path at this point so I'd like to go back to what I know.
At least it's a job
Need work, no matter what it is
I like my job and I was happy
I love that bar, I love those people. Unless I am not able to, I will be going back. Not interested in navigating a post-pandemic world with a new gig. I crave some stability right now, and I feel like that comes with seeing my regulars and coworkers.
I have been there for 16 years, love my Bosses, customers and job.
I loved working there. I just want the ban to be lifted so that I can get back to work and make money again.
I have worked there on and off since 1996. It is like family. It allows me to raise my baby during the day and work at night while he sleeps, making decent wages.
Why Not?
They put stockholders above employees.
Not sure if any if the restaurant I was working at will survive, no freelance events for months, production companies I freelance for may not survive either.
It's easiest to return to my same employer, but I am curious about what the culture and potential income would be at another restaurant. I'll apply to the market leaders who are first to open.
Hopefully by end of May-beginning of June bars will be allowed to reopen and I believe many people will be excited to be back out given that it will be Summer time. Also I believe the establishment has investors that will be able to recover from this loss as opposed to just closing it (hopefully).
I like my job and I miss seeing my friends but I don't like the way we are treated as employees
I would have said yes if they would have treated us better. They took all the food to a food bank, which is nice, but they had just let all of us go. Some went hungry that week including me and my family. No one reached out to us. The info came second hand in Facebook from another employee.
How did your employer handle things?
They laid us off without pay, it is terrible.
They did the best they could.
They kept the entire management team at reduced salary, which I found impressive.
"My employer initially asked us not to apply for unemployment so that he could apply for a SBA loan and receive forgiveness.
The position that put me and my coworkers in is an incredibly difficult one. We faced angering our employee and losing the potential for a job once Covid-19 ends versus going into personal debt with no income coming in... when our employer finally relented weeks has passed. Unemployment is not retroactive. I along with others are still waiting to be approved for unemployment. "
How did you feel about your level of pay?
Not sustainable
I was doing ok on my own but was striving to do better.
Poverty level. Working full time.
It is lower compared to my white counterparts.
I'd like it to be more, but I want to pay my staff more first.
I am grateful but not happy.
The past year was tough but others make up for it.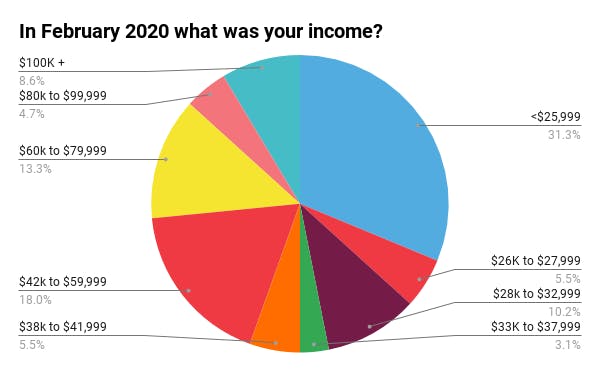 What are you hearing from others in the industry?
Information is disorganized and a lot of disappointment in feeling like they are caught in the fray of the chaos - that ultimately they were treated as disposable.
All of my friends are unemployed. Some of us are concerned we will not have jobs to return to when things "normalize".
We are confused and are never really told a concrete plan. We don't know when we can work and start being able to feed our families again. It's overwhelming when you have no control over what's happening to your livelihood and you can't get any help or answers.
A lot of us are suffering very badly because we relied on Tips to get by for many years for a lot of us .
I don't have a support system so there's been a few times things have been left at my door by co-workers. Without me asking. I've seen a lot of that too. The workers taking care of workers.
Some people are forced to go back to work and get off unemployment. Others are terrified they will get sick. Others still think this is the end of our industry unless a vaccine comes.
What information, trainings or skill building classes would be helpful to you right now?
How to land a job when you're almost 60. And a woman.
How to be most helpful in our community, most effective way to advocated for others.
Online marketing, website design and branding classes would be invaluable. For myself and many others, financial literacy and wealth building advice would be critical. A large portion of hospitality workers are extra screwed by this mandated shutdown since they have no savings and no investments to fall back on.
I don't know where to begin.
Ones to help with anxiety management and to build social skills
List of industries that are hiring, repurposing my restaurant work for tech
Online certification for an at-home career like medical billing
SEO training, possibly marketing or mental health counseling training to assist others
Contracts - how to comprehend, write
How to create and maintains multiple sources of income
Coding, real estate
How to start a new business
Anything industry related! Cooking, wine but even tips on admin type things, excel, PowerPoint, etc etc
Resume & LinkedIn updating courses, empathetic sales courses, general economics courses
Direction and possibly training or schooling to find another job in a different field of work
Classes on ways to boost your immune system. Classes on how to educate and prepare yourself for how to survive during a pandemic. Classes on how to keep fit and increase Endorphins and mental health during difficult times .
I need a computer.
Cocktail classes. Wine classes.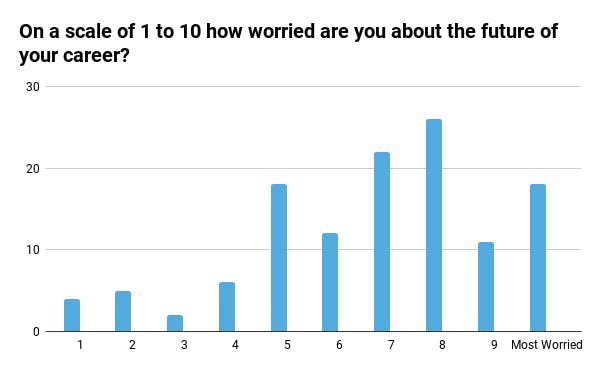 What are your other concerns about the future of the hospitality industry?
That we will rebuild without learning any lessons from this.
That we will continue to expand and extend pieces of the industry on the service without actually building an infrastructure that values employees and workers.
We will continue to exist as an industry that barely ever operates with more than 10-30 days of operating capital on hand.
It's going to be slow for awhile. I know my tipped income will be half of what I used to make when my job opens up.
I work at a theme park. People won't have money to spend and they're going to be scared of traveling and eating out for months to come.
Everyone will take out loans and be unable to repay them, many restaurants will close.
It is so uncertain times like now prove how easily expendable servers are.
Wage equity
What does the return look like, are they going to welcome everyone back, are new SOPs going to be put in place.
This happening again...
I'm not worried about its future, I think when this is over everyone will be even more excited to eat and drink and socialize. But I worry restaurants wont learn from this... I was shocked that no one had loss of business insurance or any type of coverage.
That the recovery will take all of 2020.
Seattle is so saturated with restaurants. There is little creativity and innovation, and quality often suffers as well. The industry as a whole...well, if the economy tanks, restaurants are always the first to suffer, and it concerns me that there are so many of us currently out of work with limited skills to apply in other fields.
Will people of color have access and opportunity. Will the folks who have had to "walk a mile" in their employees shoes use this as opportunity to create lasting equity and justice.
The sustainability of our current model. Tipping, working conditions, policy that affects our industry is in dire need of reform.
No sick leave or 401k plan or emergency relief for situations like this.
I'm scared people will be freaked out and avoid public places or that they never reopen.
I worry that being an older bartender or server is frowned upon as a woman, but is so cool as a man. I worry that tips will suffer as I get older and that I am forced out of my gig.
What will happen to our small restaurants?! We can not allow Companies like companies like McDonald's and Chick-Fil-A to be the only food options left. Especially in big cities where, in certain cases, they already are.
That we deserve a fair livable minimum wage.
When things return to normal, what does training and development look like.
Getting sick because I was at work. The industry itself never bouncing back would devastate me. What kind of wage I would be making.
We need more consistent industry advocation, both internally and in its representation to lawmakers and the general public. It can't just emerge in times of extreme crisis, when justice work becomes less a choice than a necessity. It can't just show up when it affects the majority.
Once things do re-open, how long is it really going to take for people to trust going out or having large events?!
I am concerned small, independent restaurants are not going to survive this. My favorite place to work and patronize have always been locally owned, and community driven.
I am afraid for my staff. I'm afraid this will force them into other occupations they won't be happy in when they are so great at what they do
Guests not having money to spend if we do open back up
I don't enjoy enabling heavy drinkers nor watching unhealthy people harm themselves further by eating to excess. Encouraging excess, just one more drink, etc. is in my financial best interest and up-selling is of course encouraged by management. That feels fundamentally wrong.
There are still a multitude of gender and class issues to tackle. And BOH should make far more than they do. Oh and tipping? That came out of slavery. I'd prefer a more humane and professional environment, like what exists in many Australian restaurants.
All measures seem to EXCLUDE the event industry. Where do we fit into the recovery plan?
People won't be operating the same as before and you're going to have to work very very hard for no return.
How we can protect our tipped employees in the future, placing more restrictions on commercial rent
Rise of cost of goods. The poor work ethic of labor pool
Are we going to finally start taking care of the physical, emotional and mental needs of the people who work in this industry? Will waiter/waitresses be obsolete?
If you had a magic wand, how would you use it?
Aside from healing those with COVID 19, I would want to build a non-profit resource for industry workers that was focused on Civics 101 - understanding how to be an advocate for yourself and your community in your industry and community.
Guaranteed income, Medicare for all, housing for all.
Outlaw Tipping
Make sure we elect good leaders starting with POTUS and make certain those who run have a platform that includes care for our planet, our foodways, workers, and overall humanity.
Equality for all in a virus free world!
I'd win the lottery so I wouldn't have to worry about money. Then I would just work because I love it, not because I'm afraid of living on the streets
Living wages, affordable housing and health care for employees & dependent children.
Turn things back to normal where I had a schedule and really awesome shows to work.
Continue to help/support marginalized communities and assist women entrepreneurs in Food. Create more resources and philanthropic foundations that support our industry for women especially over 35 .
Get rid of the virus, tax the rich, make billionaires help us small folk, less red tape for assistance, better and affordable mental healthcare access
I would make my home a virus-free zone so I can still have my friends over to feed them and hug them.
Set all individual people...not wealthy or corporations but all of us little people...to be set to zero. A fresh start. No debt and a real and true living wage in California. To create jobs and work cultures that pay well and is safe for everyone.
Create a hospitality charm school for people who want to maximize their EQ.
I would open a shelter for single moms to get back on track with parenting and money management classes free services.
I would be coaching for leadership, health/wellness, and building towards stronger restaurant community. I would be actively engaged in changing restaurant culture towards the health and wellness of people and our planet.
I would take the bias and politics out of news. I believe that is the core of a large amount of disagreements.
What's Next?
Interested in using our survey results to inform your work? To let us know what you're thinking, email hello@womeninhospitalityunited.org
Stay in touch and never miss an update by clicking the email signup bar on the top right of this page.
Thank you!